TICKETS

THE BEST NEW YEAR EVE EXPERIENCE WITH GUARANTEED VIEW OF THE BALL DROP… FOR ALL OUR GUESTS!
Supernova Ball Drop is the perfect setting for an unforgettable New Year Eve's party with outstanding direct view of the ball drop and an amazing atmosphere of Time Square! The Annual New Year's Eve Party at Supernova, a newly-redesigned, sophisticated event space with an outdoor terrace providing for spectacular views offers an unforgettable experience for New Yorkers and international revelers who travel from more than 15 countries to experience the magic and energy of Times Square on New Year's Eve. Check here our unique view of the Ball Drop.
Most amazing view of the Ball Drop in Times Square
Newly-redesigned sophisticated and hip venue
Experience the electricity of New York City
8.15PM TO 3AM NEW YEARS EVE PARTY:
VIP tables with heart-stopping view of the Ball Drop
Cirque du Soleil style live entertainment
Premium Open Bar with gourmet buffet of hors d'oeuvres and sweets
Music by top DJ and dancing
Sophisticated and hip styling, newly-redesigned event space
EVENT DETAILS:
(1) 10 and over (under 18 and younger with an accompanying parent). You must be 21 or over to drink.
(2) Dress code: New Year's Eve Best – no jeans, caps or sneakers. Jackets required for men.
(3) Refund and cancellation policies: all sales are final and non-refundable.
(4) Complimentary access to the East terrace for Novotel guests.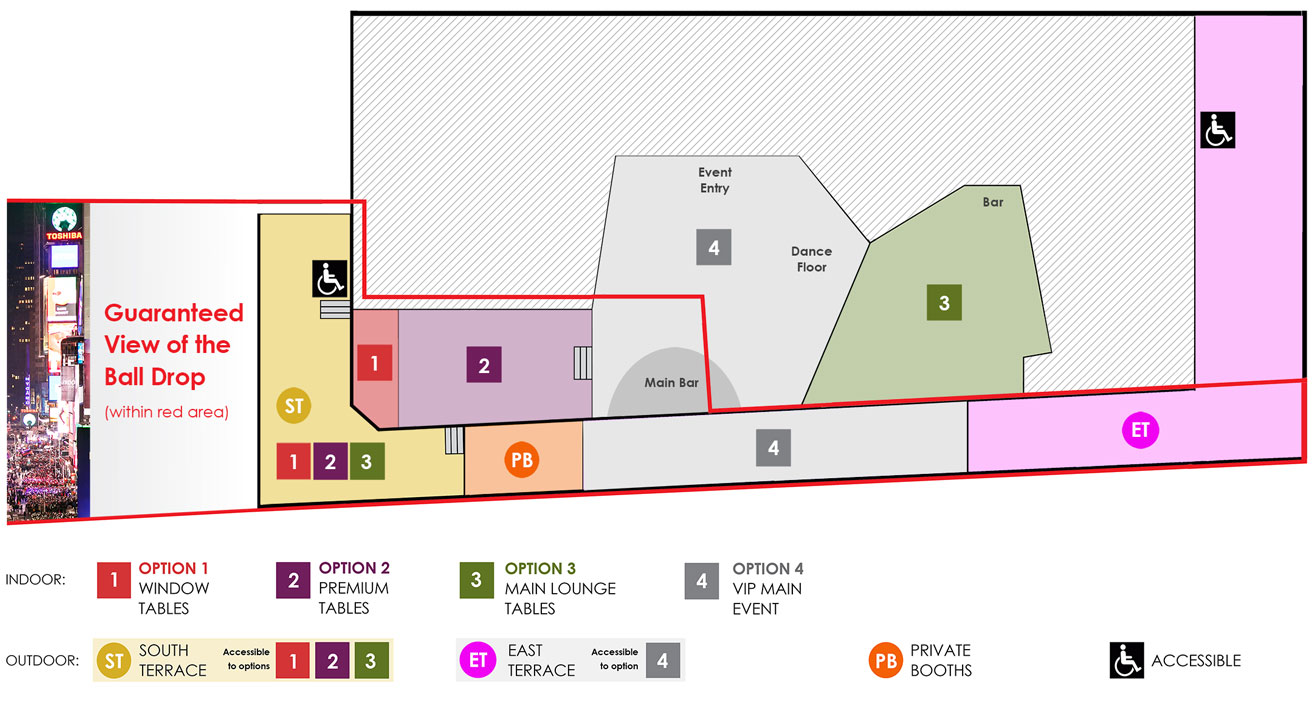 OPTION 1 (8.15PM) – PREMIUM WINDOW PRIVATE TABLE:
– Your private window table in private area with guaranteed direct view of the Ball Drop
– Premium open bar (8.15PM-3AM)
– Complimentary hotel room (at Novotel) from 2pm to 8pm
– Includes bottle of Dom Perignon Champagne at your table
– Gourmet buffet of hors d'oeuvres and sweets
– Priority entry at 8.15PM
– VIP access to the heated SOUTH Terrace with direct view of the Ball Drop
– Large selection of fun party favors and Supernova blanket included
OPTION 2 (8.25PM) – PREMIUM PRIVATE TABLE:
– Your private table in private area with guaranteed direct view of the Ball Drop
– Premium open bar (8.25PM-3AM)
– Includes bottle of Champagne at your table
– Gourmet buffet of hors d'oeuvres and sweets
– Priority entry at 8.25PM
– VIP access to the heated SOUTH Terrace with direct view of the Ball Drop
– Large selection of fun party favors and Supernova blanket included
OPTION 3 (8.45PM) – MAIN FLOOR PRIVATE TABLE:
– Your private table in a private area
– Premium open bar (8.45PM-3AM)
– Includes bottle of Champagne at your table
– Gourmet buffet of hors d'oeuvres and sweets
– Priority entry at 8.45PM
– VIP access to the heated SOUTH Terrace with direct view of the Ball Drop
– Large selection of fun party favors and Supernova blanket included
OPTION 4 (9.15PM) – INSIDE PARTY & DANCE FLOOR (NO TABLE):
– No table included
– Premium open bar (9.15PM-3AM)
– Gourmet buffet of hors d'oeuvres and sweets
– Entry at 9.15PM
– VIP access to the heated EAST terrace with direct view of the Ball Drop
– Large selection of fun party favors included
OPTION BOOTH (8.15PM) – PRIVATE OUTDOOR HEATED BOOTH WITH TABLE:
– $10,000 per booth (up to 6 people)
– Unique private outoor booth with UNOBSTRUCTED VIEW of the ball drop
– Premium open bar (8.15PM-3AM)
– Includes bottle of Dom Perignon Champagne at your table
– Gourmet buffet of hors d'oeuvres and sweets
– Entry at 8.15PM
– VIP access to the heated SOUTH Terrace with direct view of the Ball Drop
– Large selection of fun party favors and Supernova blanket included
GROUPS:
For groups (6 guests or more) and for private spaces, please contact us
OPERATING CHARGES:
In the amount of 28.875% represents :
(1) 20% gratuities and service charges: 15% of the operating charge is provided to the service staff as a gratuity, the remaining 5% is retained by the house and used to offset certain direct and indirect administrative and operational costs associated with the New Year's Eve Party.
(2) 8.875% combined City and State tax