A Great Place to Watch the New Year's Eve Ball Drop Without the Crowds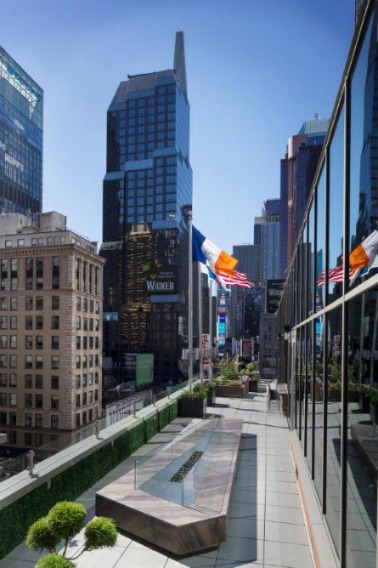 Not that you'll be alone. My guess is the new outdoor terrace at the freshly refurbished Novotel New York Times Square will be jam-packed when 2014 is ushered in.
Still, the handsome outdoor expanse – a dazzling 5,700 square feet – that semi-circles the seventh floor of the Novotel's glass tower is sufficiently spacious to pack 'em in, from cocktail sippers enjoying an autumn moment to year-end revelers who want to be outdoors but above it all, literally.
Though the hotel stands a full ten blocks from the ball drop, it's got One Times Square squarely in its sights, along with almost-eye-level signs blazing for Wicked. The terrace as well as the redesigned lobby, restaurant and rooms are a celebration of the Novotel's outskirts-of-Times-Square locale, something they'd have happily tried to forget during the area's raunchy Taxi Driver, adult film days, but hey, times change.
To wit, the lobby is a fanciful imagining of what it's like to be inside the ball (white bands bisecting dark walls that moodily change colors do the trick). Big round starbursts, like balls, emblazon curtains, throw pillows and headboards in the 480 guestrooms. And though you can see uptown from the terrace, the focal point is ball-drop country, with a large, glass-bordered landing aimed at Times Square and warmed by gas-lit fire pits.
With drinks readily available at the large circular bar – more ball imagery! – accessible from the lobby or terrace, the terrace is a cool riff on the ubiquitous hotel roof bar – and the only outdoor in-the-air space of its kind we can think of in or near Times Square.
By Terry Trucco – Over Night New York

——————–
See full article: http://blog.overnightnewyork.com/a-great-place-to-watch-the-new-years-eve-ball-drop-without-the-crowds/